1. Add A Small Plant Or Flowers
One of my favorite ways to warm up a cubicle or work space that always brings a smile to my face is to add a small plant.
It can be a succulent, fresh flowers, a fake plant, or anything along those lines – all are great options that help to liven things up in an otherwise cold-feeling cubicle.
And if you really like how it adds to your desk, you can always get more than one. Just make sure to water it as needed if it's real!
Also, keep in mind if your office doesn't get a lot of sun, you'll want to get a plant that doesn't require much natural sunlight to survive.
2. Add Wall Art
There are so many ways to add some art to decorate the walls of your office.
Here are my favorites that can easily help liven up your space.
A) Photos Of Loved Ones
Having photos of your loved ones, friends, or pets is always a great way to remind yourself of life outside of work.
Pick some of your most favorite memories you had with them (that are work appropriate of course) and stick them up on your cubicle wall.
B) Wall Grid Panel
If your cubicle doesn't have fabric walls to easily hang stuff on, an easy way to add pictures and decorations is to install a wall grid panel.
Just use matching bulldog paper clips to hang your photos or notes.
You can also attach a hanging grid panel tray if you're looking to add some decor pieces and then you're good to go!
C) Inspiring Quotes
Here are some beautiful and inspiring quotes that you can add some picture frames to and either lay against the wall on your desk or hang on the wall.
It'll help motivate you and keep you going when you feel like you want to give up or you're having a bad day.
3. Use A Cute Cup
One of my favorite ways in the morning to start off the work day is to enjoy a nice cup of one of my favorite beverages.
I love cups that have really colorful designs and motivating quotes because they always help to brighten up my mood, bring me positive vibes, and keep me motivated to stay hydrated.
It's also a plus that they can help add some extra color to any work space.
Whether it's a refreshing iced coffee or tea for a hot summer day or a warm cup of hot chocolate, tea, or coffee for those cold winter mornings, I always make sure I have a variety of cups and tumblers to choose from to suit every occasion.
4. Organize Your Desk
If you want to be as productive as possible at work, it's important to be as organized as you can.
You're not going to want to work if your whole desk is a mess with papers and knick-knacks all over the place.
Clutter can make you feel more anxious, lower your productivity level, and can even stop you from getting your work done so make sure you're choosey with what you place in your office.
Here are some things you can organize your belongings but still keep your desk looking cute.
As you can see, a lot of the organizer pieces are acrylic rose gold or gold accessories because they help make the work space look so much more luxurious and gorgeous.
5. Use A Planner
Your work may have given you a planner to schedule your day and write all of your tasks on your to-do list.
Most likely, it's not the most exciting thing to look at so it's always nice to brighten your day with your own planner that you'll actually enjoy using.
Day Designer was designed in mind for girl boss ladies who want to live an intentional and meaningful life and this is exactly what this planner helps you do.
If you're in need of a daily workhorse, you'll love their best-selling flagship planner for both your work and personal life.
With a combination of both style and functionality, this planner is definitely an essential tool to help you get organized.
The durable cover and strategically placed gold corners are great for protection if you need to carry this around the office or if you need to bring it home.
It even includes goal setting worksheet and daily inspirational quotes to help you stay motivated.
Plus, they have a ton of pretty and colorful designs and layouts to choose from so there's one that's perfect for everyone.
6. Add A Fun Calendar
In addition to a planner, you may have gotten a boring-looking work calendar.
You can always ditch that plain one and bring your own fun calendar!
Hang it on your wall and never forget about which day it is again.<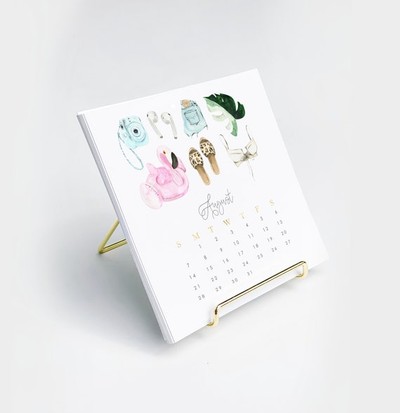 7. Add Colorful Accessories & Supplies
Last but not least, don't forget to bring some cute but functional accessories and supplies to brighten up to your cubicle. Here are some ideas.